Fans who want to send their support to Joni Mitchell can do so through the website WeLoveYouJoni-dot-com. They can also do so through Facebook or through Twitter with the hashtag "WeLoveYouJoni." The site is run through Mitchell's representatives. Mitchell has been hospitalized for nearly a month for undisclosed reasons.
It took a long time, but Bob Geldof thinks he's found The One. People magazine reports Geldof married actress Jeanne Marine in the south of France after two decades of dating. Geldof was previously married to British T-V personality Paula Yates, who left him for Michael Hutchence.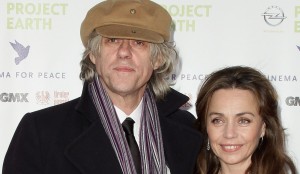 Businessman Nick Loeb,  the ex-fiance of actress Sofia Vergara, tells   the New York Time, he sued the "Modern Family" star to protect their frozen embryos because he longs to become a parent and doesn't want the "two lives" they created to be destroyed or sit in a freezer until the end of time.