Friends are coming together for 41-year-old Christine Gish as she battles a rare form of cancer.
On Saturday May 9th, the Prince George Golf and Curling Club will host "A Wish for Chris," a fundraiser featuring live painting and music.  Here's the poster with all the details.
Here's a link to the FaceBook Page and the story on CKPG-TV
For tickets you can email them at awishforChris@gmail.com or pick them up at the Black Donkey Cafe.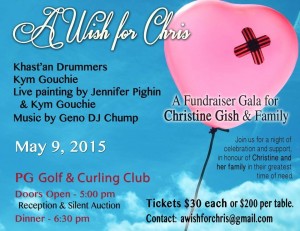 Click on the poster to make it bigger so you can read it.